Invisalign®
The Revolutionary Way to Straighten Your Teeth Discreetly
Invisalign is a revolutionary leap in orthodontic technology that lets you straighten your teeth without your friends and family noticing. Dr. Faust is an experienced provider of Invisalign in Manhattan and New York City, NY, having helped numerous patients improve the health and appearance of their smiles with this extraordinary alternative to braces.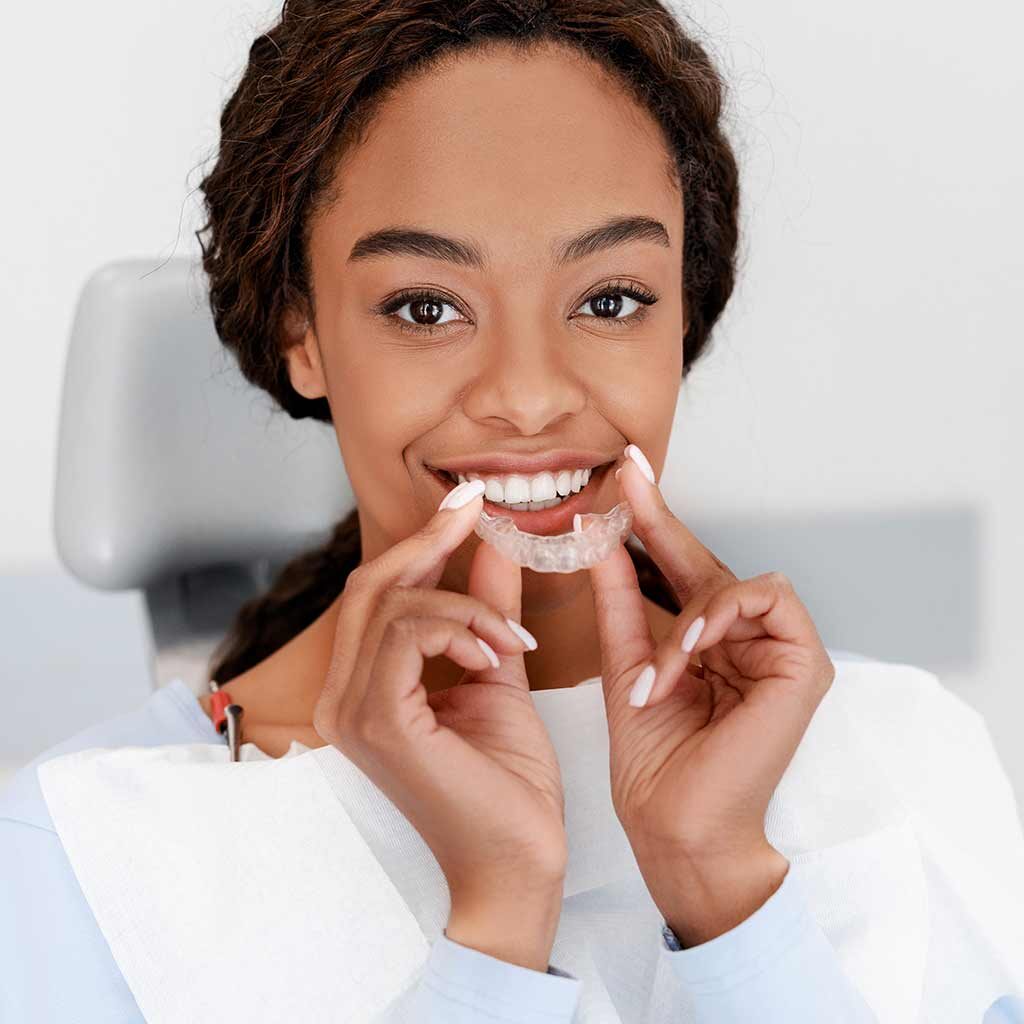 The Benefits of Invisalign
There are many benefits to treatment with Invisalign including:
Discretion - With Invisalign's clear aligners, you can enjoy a nearly invisible way to straighten your teeth.
Comfort - The series of clear, removable aligners can straighten your teeth without wires or brackets. This lets you avoid the chafing and soreness that typically occurs with braces.
Convenience - Invisalign's aligners are removable! That means you can eat and drink anything you want during treatment without worrying about damaging your appliance.
Improved Health - Invisalign's smooth plastic aligners don't have the many nooks and crannies of traditional braces, where bacteria love to gather. In addition, you can remove your aligners to brush and floss normally, which makes it easier to maintain good oral hygiene.
How Does Invisalign Work?
If you are interested in starting treatment with Invisalign, Dr. Faust will first meet with you to ensure that you are a strong candidate for this treatment. Once that has been determined, Dr. Faust will make a digital impression of your teeth. This impression will be sent along with your customized treatment plan to Invisalign's lab. Invisalign then uses its advanced computer technology to calibrate a sequence of finely-tuned aligners made just for you. The total number of aligners you receive will depend upon the treatment plan developed by you and Dr. Faust.
You'll wear each aligner for about two weeks, taking it out for eating, brushing, and flossing. As you replace each aligner with the next, your teeth will gradually move into their final alignment. You will need to visit our office approximately once every six weeks, so Dr. Faust can check your progress and give you your next aligners.
Is Invisalign for Everyone?
Invisalign is not for everyone, but Dr. Faust can determine if it is right for you. As an experienced provider of Invisalign, Dr. Faust will work with you to identify whether you are eligible for clear aligner treatment, and she will happily answer all your questions about Invisalign and other orthodontic treatment options to ensure you receive the right treatment for your needs.
---
Learn More About Invisalign in Manhattan & New York City, NY
To experience our 5-star-rated orthodontic care, schedule your New Patient Consultation today by calling (212) 262-2948. You may also use our convenient online form. Your appointment includes the following:
Discuss Your Goals
Digital X-Rays
Complete Exam
Discover Your Options
Get Started
During your appointment, we will take the time to explain our treatment process, flexible payment options, and answer any questions you may have. We look forward to helping you achieve your happiest, healthiest smile!